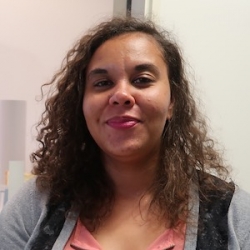 Skye Van Valkenburgh 吳思凱
Alumni
Why did you join Flagship?
After studying Chinese for about five years at community college, I transferred to SF State with every intention of becoming an English teacher. Chinese had always been my passion, but not something I thought I could make into a career. However, once admitted to SF State I discovered the Chinese Flagship Program and was drawn in by the fact that the program promised that I would attain a higher than average professional working proficiency in Chinese, as well as provide me with professional study and work experience abroad that I thought would lend well to my future career. As a first-generation, low-income college student, the prospect of studying abroad never seemed possible given my financial situation, but thanks to Flagship funding I was able to study abroad multiple times, reach my language goals (ACTFL Certified Superior) and complete several internships in Taiwan (Yilan International Children's Folklore Festival, Translator and Columnist) and China (Nanjing Chinese Language Flagship Center, Program Assistant).
Major/Concentration
Chinese Flagship/ Minor in Linguistics
Awards/ Scholarships Received
American Councils Chinese Language Flagship Scholarship - 2017
Edward B. Kaufmann College of Liberal & Creative Arts Scholarship - 2017
Institute of International Education Freeman Asia Awards Scholarship - 2017
Paul Zee Lyons Memorial Scholarship for Translation Studies - 2016
Institute of International Education Benjamin A. Gilman International Scholarship - 2014
American Councils Chinese Language Flagship Scholarship - 2014
Taiwan Ministry of Education Huayu Enrichment Scholarship – 2014
How has Chinese helped you after graduation?
While still a student in the Chinese Flagship Program, I became interested in working in the field of International Education Management. I now work as the Visiting Scholar Program Administrator at UC Berkeley's Center for Chinese Studies. I use Chinese in my job daily, whether it be translating orientation materials into Chinese or explaining complex visa procedures and Department of State immigration regulations to Chinese scholars in Mandarin. My experience completing a professional internship in China as the Program Assistant at the Nanjing Center Chinese Language Flagship Program not only prepared me linguistically for my current administrative role, but also prepared me to understand Chinese cultural norms and nuances so that I am better equipped to engage with Chinese scholars in a professional and respectful manner.